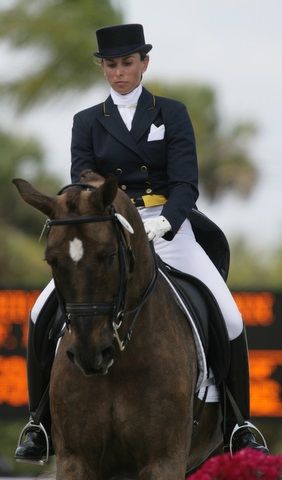 Chrissa Frith-Hoffmann is an International Grand Prix rider. She holds the United States Dressage Federations Bronze, Silver and Gold medals and is capable of training horse and rider through the most advanced level of dressage. She is trained after the original guidelines and proven principals of classical dressage and is able to apply that competitively into the modern day show ring. Achieving the Grand Prix level as well as receiving multiple high score and year end awards, in addition with being decorated with all of the award winning medals, is a result of hard work and determination. This is where Chrissa excels as an equestrian professional in this country. She earned her USDF Gold medal on a horse she trained to Grand Prix herself. Chrissa has trained five horses to the Grand Prix level along with sixteen other horses, over the years, to the FEI levels. She takes pride in training and developing her own horses. In 2009 Chrissa was listed on the USET long list with her horse F. Ferrelli after placing in the
top 6 at The WEF-CDI*** She also really enjoys helping all of her students earn their award winning medals. She has produced three Bronze medalists, four Silver medalists and two Gold! She is also very well known for training all breeds, shapes and sizes as proven by the famous Harry Callahan, the American Saddlebed, she started as a four year old and brought him all the way to Grand Prix at the young age of ten. Together they achieved scores above 65% in the Grand Prix and placed in the top six in Wellington, Fl . He is the only American saddlebred in the world to date, to achieve this high of scores. Harry since then, has earned one rider her Bronze, another her Silver and lastly another, her Gold! This is a testament to Chrissa's training, he is easy and effortless to ride. Harry and Chrissa have been featured in nine publications, and six websites and in 2005 landed on the front cover of the USDF Connection. Chrissa continues her own training and education with USET team rider, Catherine Haddad- Staller on a monthly basis.
Chrissa is currently focusing on her two top up and coming horses, Scrabble, a 9 year old Hanoverian gelding, who she has had since he was four. He is currently showing PSG and has had two wins so far, with scores up to 70%! He is pictured below. And Faustus, another 9 year old gelding who she is showing in the USEF Developing program, where he also won the qualifier this February with a 68.5%.






Chrissa and her International Grand Prix partner, Ferrelli.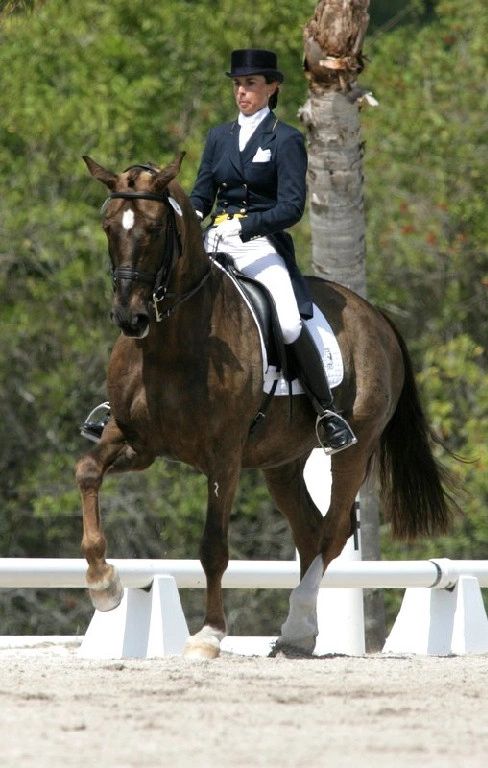 To learn more about Chrissa as a rider and about her start in horses please click on her "Who's-Who" bio on Dressage Daily.
//www.dressagedaily.com/index.php?option=com_alphacontent&section=34&category=306&Itemid=67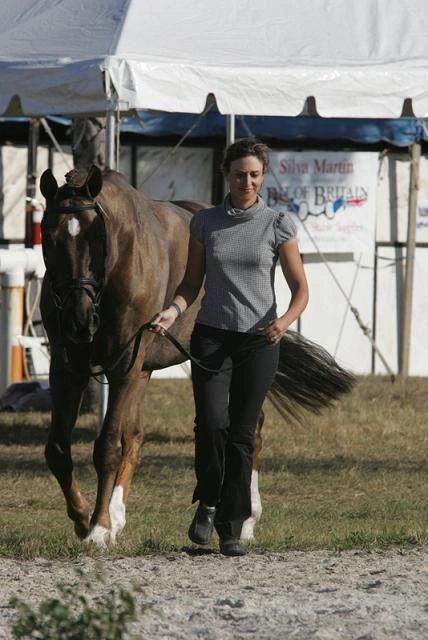 Chrissa and Forty Something, a Saddlebred gelding she trained to FEI


Below are some of the horses Chrissa has trained
to Grand Prix!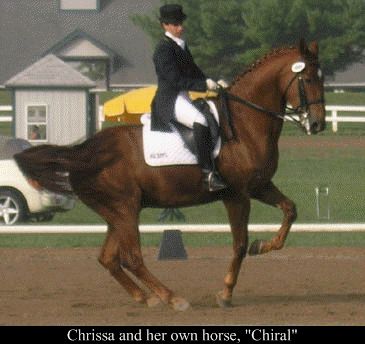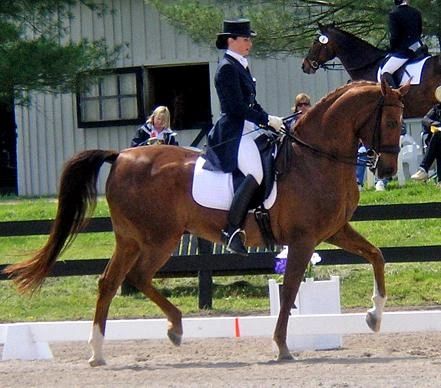 "Harry Callahan" owned by Linda Cawthon

"Kalman Kahilie" owned by Peggy Randolph

Chrissa and Traumulous Havdal, owned by Peggy Randolph, Axel Steiner helping with piaffe.





Chrissa has been fortunate to study and learn from the most elite professionals in our country and abroad!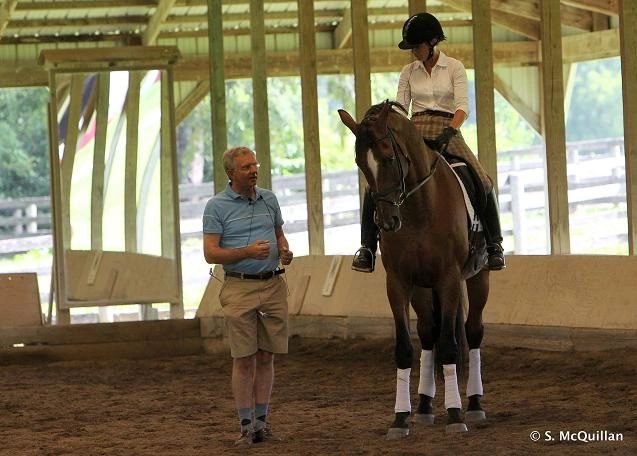 Chrissa working with Christoph Hess




Robert Dover Barbara Silverma
Tina Konyot
Alex Gerding Hasse Hoffmann
Steffen Peters Axel Steiner Siegfried Peilicke

Michelle Gibson Christoph Hess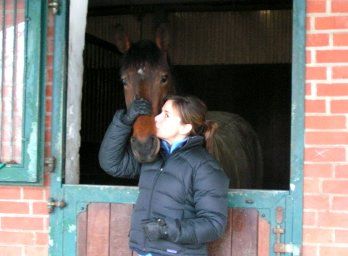 In 1995-2000, she worked for Barbara Silverman, a FEI USET Long Listed rider for the 2000 Olympics. During that time she helped Barbara with sale horses, teaching, learning how to operate a first class training facility and traveling abroad to Sweden, Germany and Denmark training and selecting horses. Ms. Silverman was Chrissa's first dressage instructor. Chrissa started riding at age seven and competed in eventing through Preliminary level before meeting Barbara in 1995. She instilled in Chrissa her love of teaching to both horse and rider. Barbara passed away from a long diligent fight of ovarian cancer in May of 2000.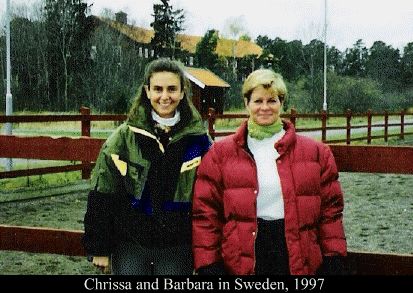 After Barbara's passing, Chrissa spent the entire year of 2001 alone, developing her own style of riding and learning how to problem solve on her own, without the help of her dear friend and mentor.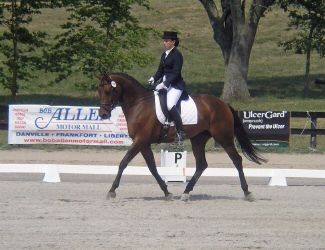 "That year was probably the hardest time for me. Riding is very much like gymnastics or ice skating, it's dancing with a horse. Without eyes on the ground from a coach, one can get very lost in the daily training process. When people ask me the common question of "haven't you been riding long enough to not need lessons anymore?" Usually I respond by saying, go ask Tiger Woods how many clubs he swings alone without his coach watching, or an Olympic gymnast how many tumbles she does without her trainer looking on.....that usually gets the light bulb flickering. Dressage is a dance between horse and rider, it's supposed to be beautiful to watch, some people even refer to it as an "art form." To put it simply, one cannot do this sport alone.
During that time I learned to not be so dependent on "feel" from a coach. I had to learn to feel and listen to the horses myself. It was a growing experience for sure, and looking back, I now know it has helped me become the rider and trainer I am today. Although spending that year searching and learning who I was as a rider was beneficial, I also knew it was time to move forward and continue my education."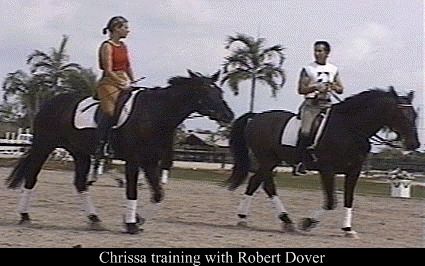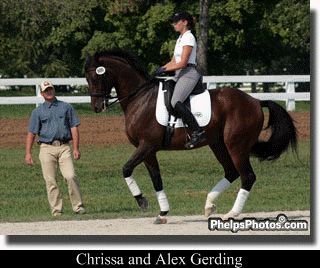 Chrissa training with Steffen Peters


Chrissa's Training Accomplishments:
Chrissa's gift is taking horses from a very young age and bringing them up through the levels herself. She is also very well known for her ability to train all breeds. Her most notable accomplishment thus far has been training "Harry Callahan", a ten year old American Saddlebred in dressage. She started "Harry" at age four and has trained him to Grand Prix, the first ever American saddlbred to compete Grand Prix and receive scores in the high 60's. Since 2004, "Harry" has dominated all of his classes in region 2, from second level to now Grand Prix. Chrissa and "Harry" were ranked first in the United States Dressage Federation's 2006 All Breeds Awards division for PSG-Open FEI and overall was ranked in the top third of all horses in the country against all breeds for PSG. In 2007 he was named The Kentucky Dressage Open FEI Champion, beating many top warmbloods in the area. Because of his success, as a "non-traditional" breed, he has become a crowd favorite. He even has his own website,
/www.americansaddlebreddressage.com
. "Harry" has also been recognized nationally through the media by landing on the cover of the USDF
Connection
magazine, being featured in
Horse Illustrated ,
The Yankee Pedlar, Cavallo
and
Pferdehorse,
two top selling German magazines
.
As a "non-traditional" breed performing well at the Grand Prix level has made him become a world wide recognized horse! She has also trained, 11 year old Forty Something, also another American Saddlebred to PSG, with scores in the 60's. She also trained, Forty Something, owned by Jody Swimmer to PSG, with scores up to 62.9% in his first test!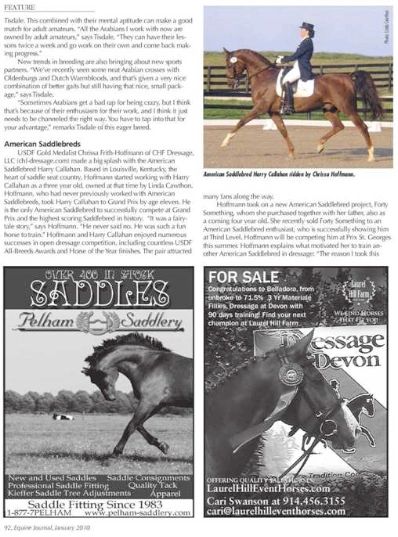 The two Saddlebreds success in the dressage world has touched many people all over the country. Their success not only reflects good training, but that dressage is not breed specific. Dressage means "training" and with proper training and dedication, any horse can learn dressage and dreams can come true!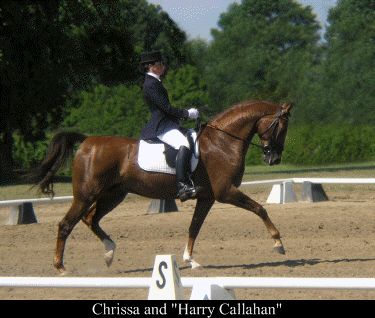 Forty Something