Chrissa and Ferrelli win the Gold Coast Opener in a class of 25 riders! Wellington Florida.

//www.horsesdaily.com/index.php?option=com_content&view=article&id=4451:chrissa-hoffmann-and-ferrelli-garner-grand-prix-wins&catid=509:2009&Itemid=1615
Chrissa and Harry Callahan make the front cover of the USDF Connection!

Chrissa Hoffmann and Grand Prix Saddlebred, Harry Callahan are published in two German magazines Pferdhorse and
Cavallo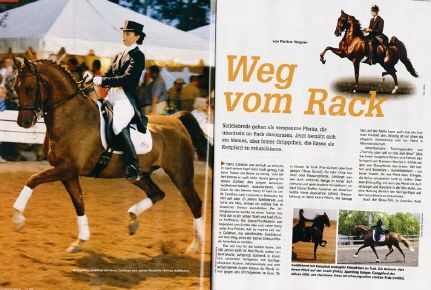 Chrissa and her Young Rider, Geena Sturzebecher on Dressage Daily for her triple win in the young rider arena at her first CDI***
///www.dressagedaily.com/index.php?option=com_content&view=article&id=5024:geena-sturzebecher-and-korrado-sweep-young-rider-division-at-the-winter-equestrian-festival-dressage-classic-cdi&catid=149:young-riders&Itemid=60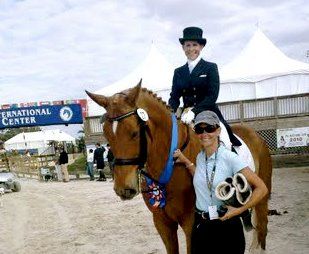 Chrissa and both of her FEI saddlebreds, Harry Callahan, and Forty Something that she trained are featured in two differend magazines! Equine Journal and Saddle and Bridle!







Chrissa is interviewed by Horse Issustrated in an article about "Long low and Deep."






Chrissa Hoffmann is asked to be a featured trainer on Dressage Training online
//www.dressagetrainingonline.com/








Chrissa is featured in and article about her training in Hunter Sport Horse magazine






Chrissa is photographed and interviewed for the book "The Saddlebred"